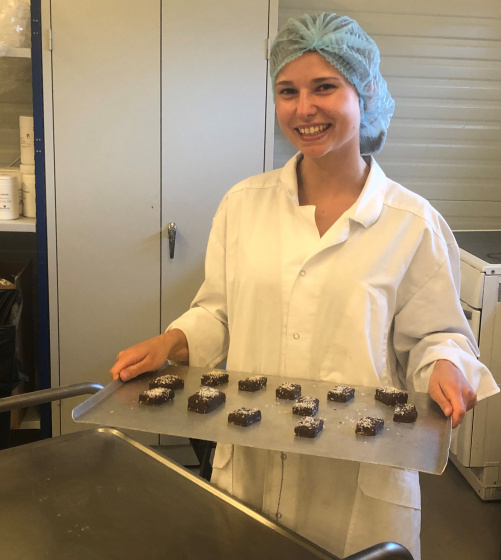 Hello Sofia!
We wish our new colleague and product developer Sofia welcome to us! In order for you to quickly get to know her a little, we asked her to answer some questions below.
• Tell us a bit about yourself Sofia
My name is Sofia and I'm halfway to 50. I just moved from Linköping (which was lucky without so much dialect) and moved with my boyfriend Fredrik in a small loft apartment in Gothenburg. In my spare time, I really enjoy being out in the woods and hiking and happy to spend time in the climbing hall. When the sun is not shining I like to spend time in the kitchen and bake and cook vegetarian food.

• What did you do before you joined us?
I grew up in Åby outside Norrköping, an area with forests, lakes and a little too many hills. Immediately after finishing high school I packed my bags and moved to Kalmar to study Nutrition and Food Science. After my education I moved back to Östergötland, this time to Linköööping and have worked with quality at ASM Foods, which mainly makes coatings and fillings for the bakery, ice cream and confectionery industry. It was an exciting and varied work, which I liked very much, but my goal has always been to become a product developer and get an outlet for my creativity.


• What made you look for the job?
I have always wanted to live in Gothenburg and the plan was that my boyfriend and I would start looking for jobs around this fall when Fredrik graduated this spring, but then this job came up and I thought it sounded incredibly exciting so we moved earlier than planned. I thought that protein bars seemed like a very interesting industry, very innovative and varied and yet not totally foreign considering my previous job. In addition, I thought the ad was very genuine and it seemed to be a very good workplace.

• What do you most look forward to in your new role as our product developer?
Right now I am most looking forward to getting to know all colleagues, raw materials and products and also to accept that all samples will not be good on the first try. Otherwise, I very much look forward to having a great deal of customer contact and helping customers develop products that meet their expectations!

• Describe yourself with 3 words
Happy, restless and caring

• What should you do this summer?
The plan before Corona broke out was that Fredrik and I would travel around Europe in our campervan which Fredrik has built, but now we have to stick to a Sweden tour instead.
Welcome to our team Sofia, we look forward to working with you and developing new exciting bars!